Dear Glee Writing Staff,
Let me begin by saying that I think you are, generally, doing a fantastic job.
I appreciate the inclusive, life-affirming messages that Glee sends out into the universe every week. Your song selection is eclectic, and the performances you stage often contain creative emotional and visual contexts that are both innovative and entertaining. I must reluctantly admit that I am addicted to your show. Truly! I catch myself thinking about your characters during my day-to-day life as if they were real people I knew. It is because I care so much for these characters and the world they inhabit that I must speak my mind at this time.
I am sorely disappointed by your lack of character consistency as well as your inability to maintain satisfying story arcs throughout an entire season. Romantic interest is wildly arbitrary; far beyond believable teenage capriciousness. Character motivation is often secondary, and a sense of logical continuity is sometimes barely present in some episodes. Plots frequently hinge on ridiculous premises ("Brittany Vs. Britney") or else require major suspensions of disbelief. I am glad that some characters have evolved beautifully this season and come to the forefront of the show in exciting, dynamic ways (Santana/Brittany) but it is a bittersweet pleasure to savor when we see that so many other characters have been marginalized or stripped of their three dimensionality (Mercedes, Mike, and Tina).
The worst of Glee is probably best encapsulated in your second season's final episode, "New York," which somehow managed to sacrifice both believability and entertainment value for the sake of, well, I honestly don't even know.
Because their romantic tension was jerked around so much this season, the Finn/Rachel kiss felt strangely insignificant. That anti-climatic "moment" was not helped in the least because both of the club's final songs were shockingly lackluster and generic when compared to the original songs that they performed at Regionals. Forget how the judges might have responded to the kiss! Realistically, I think those kidsdeserved to lose if they were writing and rehearsing their material for a national competition the day before they had to perform it.
If you were pressed for time then why would you waste so much of it on numbers like Mr. Schu's painfully promotional performance of "Still Got Tonight," (which just so happens to be Matt Morrison's single off his debut album)? With the exception of Kurt and Rachel's duet, no number performed created any real emotional context for the characters, especially not Sunshine Corazon's swan song that was obviously added simply to bookend her appearance in the first episode of the season and allow Rachel to take off her horns and finally make amends with "nemesis." And "Bella Notte?" Really? You used up precious ballad time just so that you could lull us into a false sense of security and then jerk our Finchel chain ONE LAST TIME?
Well, actually, I did marginally enjoy the dissonance that sequence created with the contrasting energies, but still…you wasted a Disney song on that?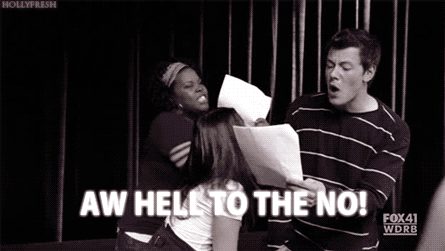 What more do we know about ourselves? How have we grown? 
What more do we want from life? 
Season Two has finally finished and when we ask these questions of your main characters, there don't seem to be any significant answers.
I know that you're probably not suffering any ill effects from these oversights. If anything, I'm sure that Season 2 was an even bigger commercial success than you had hoped for, but please, for the sake of your audience: Get Your Priorities Straight. You're storytellers, right? Well then tell us stories.
Here are my seven suggestions for how you can make Season Three better…