Okay…
Let's say you have to attend a party. For argument's sake, let's say it's a drag queen party with lots drag queens. But it's not just you, it's a group of you and at least three other friends. You want a theme. You need a theme.
You could go as the cast of "Sex and the City" or as The Beetles in reverse drag, but…no…no…no…every idea you conjure just seems lamer than the last…until, it finally dawns on you:
NATALIE PORTMAN.
Think about it…
Who's hotter than NP right now?
Answer: No one.
Which actress has beauty, brains, and has played a whole bevy of dragable characters with outlandish outfits and exciting accessories / hair pieces?
Answer: Meryl Streep. NO! NO! Well, maybe, but Natalie is a close runner up.
Of course, the answer to any question is Natalie.
Is there a sock she has yet to rock off? I don't think so.
Now, this brilliant concept doesn't have to be limited to costume ideas for drag queen show party…it could enable any gender to dress up like Natalie Portman for any special occasion. There are a myriad of opportunities: Halloween! Mardi Gras! A Masquerade Ball! Some colorful, gynocentric adaption to A Midsummer Night's Dream! The possibilities are endless really…
What? You don't think so? You don't believe me?
Let's rattle them off then, shall we?
Queen Amidala, Theed Invasion  (Star Wars Episode 1)
The Star Wars Universe is particularly generous when it comes to garish, dragable options. This is especially true in the first movie where Natalie seems to change outfits every five goddamn minutes.
Padme, Battle Outfit (Star Wars, Episode 1)
See? Told you so!
P.S. Cute-ass blaster.
Sweet-Girl, Nina Swan (Black Swan)
Note the downy white feathers gracing her temples like the fragments of a broken, alabaster halo.
This is the crucial final touch for those of you who choose to go the drag-swan queen route. The absence of this element will truly separate all the Nata-lies from the Wanna-bes. I shall henceforth call such people, the "Not-alies".
Swan-of-Satan, Nina Swan (Black Swan)
Note the asymmetrical beauty of her dark crystalline tiara. When it comes to turning heads, Black Swan Queens will have a distinct visual advantage at a Halloween party (until they try to go trick-or-treating, that is…)
Novalee (Where the Heart Is)
For the girthy or pregant friend…or the Wall-Mart lover.
Take note: The Tree-in-a-can accesory is a must!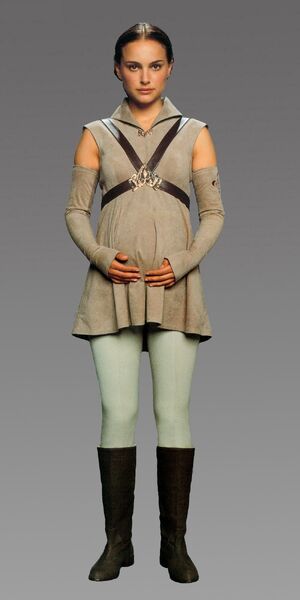 Pregnant Padme (Star Wars: Episode III)
What? You didn't think we were done with Star Wars, did you?
Or pregnancy for that matter…
Evey Hammond (V for Vendetta)
Perfect for those bald(ing) friends.
P.S. "V" may also be for "Venereal"…I'M JUST SAYING, Evey! Geez!
Mathilda (The Professional)
Perfect for those shorter friends, or for any pre-pubescent children you may know who ALSO want to wear a wig and come to the party.
BONUS ROUND!!!
Anger Managment Party in need of a theme? There's a Natalie for that too!
Never-Said-I Was-A-Role-Model Natalie
College Graduation Party to attend? 
Weed-Smokin' Harvard Natalie
I guess what I learned from all this is that there really is a Natalie for every occasion! 
Tired now.
G'night!